Share this story:
In a groundbreaking new issue of Vogue, edited by Beyoncé, the icon not only graces the cover in a stunning photo shoot (more on that in a sec).
She also talks openly about everything from body changes and complications during and after pregnancy to discovering shocking relationships in her ancestry.
But a central focus of the discussion was on opening doors and truly making sure that every voice counts. Here are some of the most eye-opening quotes from her history-making cover story.
On Opening Doors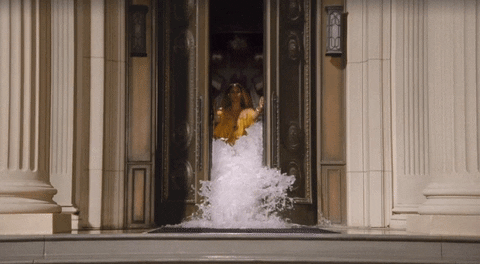 Beyoncé selected 23-year-old Tyler Mitchell to photograph her cover, making him the first black photographer to shoot a Vogue cover in the magazine's 126-year history.
"It's important to me that I help open doors for younger artists. There are so many cultural and societal barriers to entry that I like to do what I can to level the playing field, to present a different point of view for people who may feel like their voices don't matter."
If someone hadn't given a chance to Josephine Baker or Nina Simone back in the day, Beyoncé says the door wouldn't have been open for her either.
"If people in powerful positions continue to hire and cast only people who look like them, sound like them, come from the same neighborhoods they grew up in, they will never have a greater understanding of experiences different from their own. They will hire the same models, curate the same art, cast the same actors over and over again, and we will all lose."
On Teaching and Guiding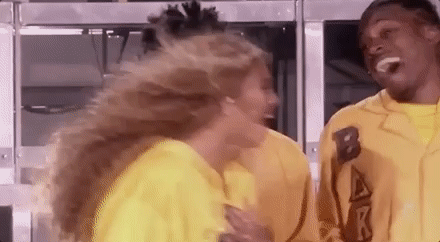 She goes on to talk about seeing the historical impacts of her accomplishments. When the On the Run II Tour with husband Jay-Z had a show in Berlin at Olympiastadion, the importance was not lost on her. The site once promoted hatred, Nazism, and racism. In 1963, it was the site of the Olympics where Jesse Owens, an African-American athlete who was the son of sharecroppers and the grandson of slaves, won four gold medals. He was praised as the one who "single-handedly crushed Hitler's myth of Aryan supremacy." And now, 55 years later, she and her husband, a black couple, performed to a sold-out crowd, all while the concert-goers were "smiling, holding hands, kissing, and full of love."
Before her headlining HBCU (Historically Black Colleges and Universities) band-themed Coachella performance, the one that shook the nation, she also realized the importance of what she could teach the younger generation about the black national anthem, "Lift Every Voice and Sing," after humming the song to her youngest daughter as a lullaby. (And this month, the singer announced the eight recipients of a $25,000 scholarship, Homecoming Scholars Award from her HBCU Scholarship Program.)
"I know that most of the young people on the stage and in the audience did not know the history of the black national anthem before Coachella, but they understood the feeling it gave them. It was a celebration of all the people who sacrificed more than we could ever imagine, who moved the world forward so that it could welcome a woman of color to headline such a festival."
On Representation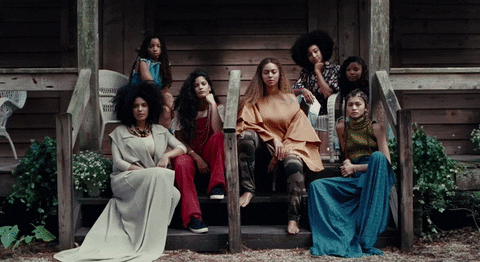 Beyoncé told Vogue's Clover Hope in an interview for the cover story,
"Everyone's voice counts, and everyone has a chance to paint the world from their own perspective."
On the Next Generation
The performer we've watched from teenage years to adulthood to motherhood says she is in a "place of gratitude," where she wants "to learn more, teach more, and live in full." Especially now that a future generation includes her children as well.
"As the mother of two girls, it's important to me that they see themselves too—in books, films, and on runways. It's important to me that they see themselves as CEOs, as bosses, and that they know they can write the script for their own lives—that they can speak their minds and they have no ceiling," she said. "I want the same things for my son. I want him to know that he can be strong and brave but that he can also be sensitive and kind. I want my son to have a high emotional IQ where he is free to be caring, truthful, and honest. It's everything a woman wants in a man, and yet we don't teach it to our boys."
On Feeling (And Being) Free
Beyoncé wants them to feel, in a word, free. Free to achieve and free to be and show who they are.
Free is what she strives to be with all that she does as she "doesn't like too much structure". And her Vogue cover exemplifies that. She talks about her experience after having a C-section to deliver her twins Rumi and Sir, and how her body is different and fuller. She is accepting her natural body and wants others to do the same.
"I think it's important for women and men to see and appreciate the beauty in their natural bodies. That's why I stripped away the wigs and hair extensions and used little makeup for this shoot."